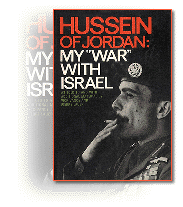 Hussein of Jordan, HM King. My War with Israel London, 1968
In describing this explosive book, the critic for the distinguished French newspaper L'Aurore wrote: "Hussein tells all, absolutely all, even what is not to the glory of the Arabs." And indeed he does. With extraordinary candor, the King of Jordan, the only modern head of state to reveal such a story, tells how and why his nation and his Arab allies were so badly beaten by Israel in the Arab-Israeli war of June 1967.
The authors obtained this story through a series of exclusive interviews granted by King Hussein. The King was the only Arab head of state to view the war from both command headquarters and the battlefield. A bestseller in France, "My War with Israel has been translated into eight languages, including Hebrew."